Following the wonderful news that Charlie York has recently been awarded the 'Overcoming Adversity' award by The Northern Echo in its 2016 Schools Awards, we are delighted to be able to announce that the BBC programme which featured Charlie's lung transplant story, Great Ormond Street, has now received a BAFTA Award Nomination, in the Factual Series category.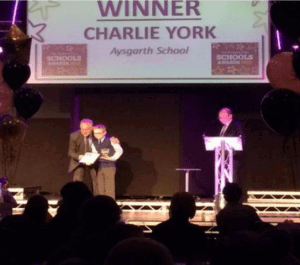 Charlie was presented with his award by The Northern Echo's editor, Peter Barron.
Aysgarth entered Charlie for the award in recognition of his resilience and determination to lead a normal life, despite his ongoing battle with cystic fibrosis.
Charlie was diagnosed four days after his first birthday and spent most of his early life in hospital having invasive and painful treatment. In 2011 he contracted a super-bug, which had a dramatic and debilitating effect on his lung function.
He tried to attend school as much as possible, often whilst undergoing intravenous antibiotic treatment, despite the fact that the drugs made him sick. Charlie's health deteriorated to such a degree that he underwent a successful bi-lateral lung transplant at the end of July 2014.
Just 10 weeks later Charlie walked six miles in a sponsored walk alongside his Aysgarth friends. A year after his operation, he won his 100m race at our school sports day – an amazing achievement and an inspiration to us all.
Although Charlie's lungs are free from cystic fibrosis, he is not, so he has to cope with the condition and the life-changing side effects of the tablets, anti-rejection drugs and insulin injections he needs every day.
The nominations can be viewed here: https://www.bafta.org/…/uploa…/baftatv1516nominationlist.pdf
The BAFTA Awards will take place on Sunday 8th May.